Guilin Travel Advisor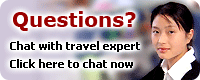 Skype: topchinatravel
Tel: 86-773-2828314
Ask a Question

Zhangjiajie VS Guilin, Which is better to Visit
Lynne ( Singapore ) May 05,2015

Hi. Which should it be Guilin or Zhangjiajie in early December? I read it would be very foggy and cold in Zhangjiajie in December. Is Guilin misty too? We will be having a business trip in Guangzhou and hope to take a side trip. I was thinking of Zhangjiajie and Guilin, but worry about the weather. Could you please tell me where is better to visit?
Sophie Huang( TCT Sales Representative ) May 05,2015
Sophie Huang
Dear Lynne,
Greetings from Sophie, Top China Travel!
Thanks for your questions.
At first, please kindly be advised the best time to visit
Zhangjiajie
and
Guilin
as below,
1. Best time to travel in Zhangajiajie:
April to October, when it is warm enough. The national forest is green with lush trees in spring and summer, colorful in autumn. Besides, there are more water in Golden Whip Stream as well as some lakes in Zhangjiejia. It is easy to see the beautiful scenery. July and August are rainy season in Zhangjiajie, do not forget to bring an umbrella when you pack for traveling to Zhangjiajie.
2. Best season to visit Guilin:
End of March to early November. Guilin' spring is warm with dizzy sometimes, but it is the best time for Guilin tour as it is easy to see the best Guilin view. June and July are the rainy season in Guilin, but not rain every day. So it is also suitable for traveling to Guilin. September and October is Guilin's autumn, where tourists could see golden rice terrace in Longsheng, cool and less rain for Guilin and Yangshuo trip.
However, December is the low season for traveling in China as it goes into winter. I went to Zhangjiajie in middle of November before. The view is really not good. It became cold from November. When I visited it, it was foggy on the mountains of Zhangjiajie. At night, it snowed. If you could meet snow, it is also good to visit Zhangjiajie even though it might be very cold, because it will be a quite different experience. The snow view on the mountain is also beautiful.
For Guilin, the average temperature in Guilin in December is about 7 ℃-12 ℃. There are less rain and few tourists in this season. If you visit to Guilin in December, it is ok. Meanwhile, the hotel rate and internal transportation will be cheaper than high and shoulder season. As the location in South China, Guilin is suitable to visit through the whole year if it does not rain for a long time.
Compared to Zhangjiajie, Guilin is better to visit in winter as it is less influenced by weather. Considering the transportation from Guangzhou, Guilin is nearer and has more flights each days. Besides, there is 2 overnight trains from Guangzhou to Guilin every day. From the end of December of 2014, the high speed train between Guangzhou and Guilin is opened up.
Hope the above is clear and helpful. I am delighted to recommend you some Guilin tour as below for your reference,
---



4 Days Classic Guilin Li River Tour
Destination:
Li River, Seven Star Park, Reed Flute Cave, Elephant Trunk Hill
5 Days Guilin City & Countryside Tour
Destination:
Li River, Reed Flute Cave, Elephant Trunk Hill, Seven Star Park, Moon Hill, Big Banyan Tree