Guilin Travel Advisor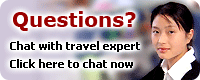 Skype: topchinatravel
Tel: 86-773-2828314
Ask a Question

When is Suitable to visit Longji Rice Terraces
Kristina ( Germany ) March 22,2015

We plan to spend a few days in Guilin during the last week of October 2015. I've read that the Longji Rice Terraces will have been harvested by then, so will it be worth while to take that tour? Thanks in advance!
Sophie Huang( TCT Sales Representative ) March 22,2015
Sophie Huang
Hi, Kristina,
Thanks a lot for your questsions.
Well noted that you are planning to visit
Guilin
for a few days at end of October and hope to include
Longji Rice Terraces
into your tour plan.
At first, I would like to introduce you the suitable time to visti Longji Terrace Fields.
As Longji Terrace Fields are in a minority area. When tourists visit there, they not only enjoy the beautiful natural view, but also the minority culture. Therefore, on this point, Longji Terraces are suitable for visit all the year round.
If you prefer to the natural view, It is better to visit Longji Terrace Fields from April to October.
In spring, it goes warm and everything become green. The locals start to water the fields and till fields from April 15th according to Chinese traditional canlendar, which might be in May according to Gregorian calendar. It is also a good time for photographer to take some good pictures.
In Summer(June, July, August), rice shoots grow green and blossom. Although it is not a good season for photography, it is suitable for tour.
In Autumn(September, October), the rice becomes golden and is waiting for harvest. When you look around from the high spot of the hill, you will find the terraces are yellow, which is very beautiful and majestic. Therefore, it can be called the best time to visit. The harvest at Longji will be finished in the middle or the end of October.
After that, it will seem a bit desolate. Therefore, we genereally do not suggest our clients to visit after harvest.
If your travel time is flexiable, I suggest you visit to Longji Terraces earlier, such as the end of September or the beginning of October. I am delighted to recommend our
5 Days Guilin Natural View and Minority Culture
Tour to you.
Hope the above is clear and helpful.
Best regards
Sophie Huang.