Guilin Travel Advisor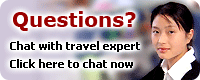 Skype: topchinatravel
Tel: 86-773-2828314
Ask a Question

Travel to Guilin around Christmas
Andrew ( Canada ) May 05,2015

Hi i am planning to be in guilin around Christmas, is it a good time to visit the rice terraces, caves or rafting?
Sophie Huang( TCT Sales Representative ) May 05,2015
Sophie Huang
Hi, Andrew,
Thank you very much for your attention with questions as below,
Hi i am planning to be in guilin around Christmas, is it a good time to visit the rice terraces, caves or rafting?
Well noted that you plan to visit
Guilin
around Christmas this year and you are interested in rice terraces, caves and rafting, but hope to know whether it is a
good time to visit the above things.
Please be advised as below,
►Best Time to visit Longji Terrace
To honest, the time around Christmas is not a good time to visit
Longji Terrace Fields
. The best time to visit the Terrace Fields in Guilin is from April to middle of October. As the fields starts to be irrigated and plowed from April when the spring is coming, it is a good time for photography of due to the good light and reflection in the fields. October is the rice harvest season. After the middle of October, all the rice is harvested from the fields. Therefore, the view will be good after the harvest time. What tourists could see is the empty fields and minority villages. It depends on your interests. If you prefer minority village and customs, you could include Longji Terrace Fields.
►Time to visit caves in Guilin
The caves in Guilin are suitable to visit all year round. In winter, it is warm in the cave. In Summer, it is cool in the cave. But we suggest you visit only one cave. It is enough as all the caves are almost the same. Therefore, you could choose visit
Reed Flute Cave
in Guilin, or Silver Cave in Yangshuo or Crown Cave near to Yangdi along Li River. All of them are the representative caves in Guilin. If you choose Crown Cave, it is a bit far from the city and it is not very good to arrange the tour. Besides, it will make the tour cost higher. Suggest you choose one from the former two.
►The good time to take bamboo rafting in Guilin
We suggest our tourists take bamboo rafting in Guilin from the end of March to the middle of November according to the local weather condition. If it is arranged in winter, it is a bit cold, although it also can be aranged. If you travel to Guilin in winter, suggest take
Li River
cruise by large boat from Guilin to Yangshuo, but not the bamboo rafting from Yangdi to Xingping. If you do hope to take bamboo rafting, you could try a short-distance rafting along Yulong River as it rafts more slowly and the countryside view of Yangshuo along Yulong River is really charming.
Hope the above is clear and helpful.
Should you have any questions, do not hesitate to contact with us.
Delighted to recommend you some Guilin tour packages
---
5 Days Guilin Natural View and Minority Culture Tour
Destination:
Elephant Trunk Hill, Reed Flute Cave, Rice Terrace, Li River
4 Days In-depth Yangshuo Hiking and Cycling Tour
Destination:
Li River Hiking, Yangshuo Countriside Cycling, Yulong River Drifting, Reed Flute Cave, Elephant Trunk Hill
Best regards
Sophie Huang
Top China Travel