Guilin Travel Advisor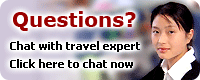 Skype: topchinatravel
Tel: 86-773-2828314
Ask a Question

Lijiang VS Guilin, Which One is Better to Visit
Ella Kelly ( Australia ) July 24,2014

Hi, we are planning to visit China and I have a rough itinerary as Beijing-Xian-Chengdu-Yangtze River-Shanghai. Besides, I am also interested in Lijiang and Guilin. But my time is limited and only suitable for one place. Therefore, I wonder which one is better and worth to go.
Sophie Huang( TCT Sales Representative ) July 24,2014
Sophie Huang
Hi, Ella,
Greetings from Sophie, Top China Travel!
Thanks a lot for your questions. Please kindly be advised that
Lijiang
and Guilin have different view.
As Lijinag is at the junction between Yunnan province and Tibet, Lijiang is located at high altitude. Therefore, its scenery is spectacular with high mountain, snow mountain, blue sky and unique minority and culture.
However,
Guilin
is located in Southern China, which is famous for the small hills and beautiful waters. The scenery in Guilin is another kind of beauty. Besides, when you visit to Guilin, it better to take Li River Cruise and do Yangshuo countryside tour. If time is enough and season is suitable, you could choose to visit Longji Terrace Fields.
Both places are suitable for year round visit, but April to October is the best season for both cities. Besides, it is easy to find flight to connect both city to
Yangtse River Cruise
( Chongqing)
When you decide which to visit, you should understand what you prefer to, spectacular view or soft scenery. Personally, I prefer the countryside view of Guilin.
Hope the above is clear and helpful.
Best regards
Sophie Huang
Top China Travel